You are here:
Home
/ Archives for search engine optimization
Tweeting and politics go hand-in-hand.
We're excited to announce improvements to twitter.com for people who might not be logged in.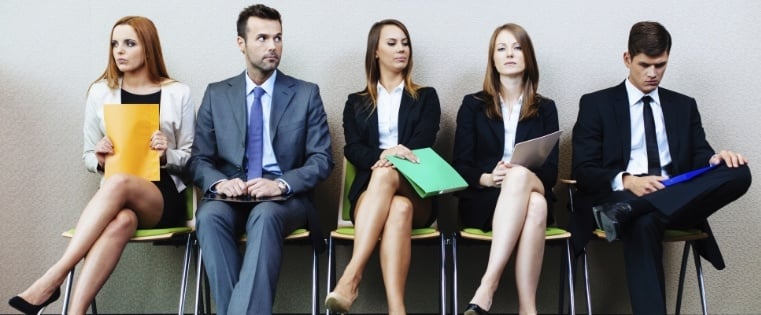 Hiring the right talent for your organization has a direct impact on maintaining your competitive edge, so it is crucial that you don't screw it up by short-changing the preparation required for the interview process. Sure, we all think it works out just fine to simply skim the resume 4 minutes before the candidate arrives and wing it, but I am willing to bet my hat that your lack of respect for the process has cost you some key talent.
Even worse, it has led you to hire talent who don't work out or who walk into a whole host of surprises because they were only given partial information. I could talk all day about the interview process from start to finish, but I am going to focus this post on the eight most important things you should do to prepare for candidate interviews.
1) Don't Be Naive
Hiring talent is scary. Hiring talent you know nothing about other than what you glean from an interview is even scarier. Let's be honest, we (the collective job seeking population) have mastered the art of the interview. Go ahead, Google "job interview tips" and within .27 seconds you have over 51 million resources at your fingertips providing guidance on how to navigate an interview. You would have to live in under a rock not to be able to figure it out.
You need to prepare for your interview with this knowledge. You are not dealing with amateurs here so you better be prepared to be on your game. Just because someone arrives at the interview with a firm handshake, an impressive wardrobe and a nice smile, don't fall in love. Be prepared to peel back the layers of that onion effectively.
2) Use Your Network
Finding talent via referral is not only smart, it is extremely cost effective. This approach catapults you past all of the unknowns about a person. You are now entering the engagement with behavioral based inputs from someone who has experienced this person in the real world.
Now I understand that your friend or co-worker's point of view is a data set of one which is not how you should make your decisions, but at least you have a starting line that is inches if not miles ahead of an unknown candidate.
If you don't have a network of talent or referral sources in your industry, build one. This should be a fundamental part of your job. Also understand that when I say "use" your network, be sure you don't "overuse" or "abuse" your network with repeated email blasts with your random job description attached asking for referrals. Those folks get cut from my network immediately. Reciprocal respect in the referral game is how this works. You scratch my back, I scratch yours. I don't poke you repeatedly until you want to punch me.
3) Do Your Homework
This applies regardless of whether your candidate was a referral or not. Take the time to know your candidate prior to scheduling that first interview. Once the interview is scheduled, take the time to do even more homework. I expect candidates to conduct research about Element Three and to talk about what they have learned during the interview, so they should expect the same from me.
There are so many modern ways to do this. You have their resume so that is a start to the thread of conversation around past experiences or mutual interests. There are many social media platforms where you can learn more about them, starting with LinkedIn. For a strategic brand and marketing agency like ours, if a candidate does not have a professional profile with a link to their portfolio on LinkedIn, this lack of prowess is a concern.
Depending on your industry this might not apply to you. Social and digital presence is key to what we do every day so it is simply expected that candidates have made their mark someplace relevant in the social sphere.
At Element Three I will review our contacts in HubSpot, our marketing automation software, to see if a candidate has expressed interest in us with a visit to our website to peruse our content, perhaps downloaded some of our resources or even gone so far as to subscribe to our emails.
Expressing an interest in learning more about our company is fundamental to being serious about working here. Sure, recruiters may look for you on Facebook or Instagram, but those are not places I use for candidate research. Twitter and YouTube, yes.
Let's be honest, from time to time you will stumble across something socially egregious that may change your mind about conducting an interview with a candidate. Better to stumble upon that @ilieabouteverything handle early in the process. More and more companies are relying on a social presence of some kind to get to know their candidates before they ever meet them in person. The following statement in
an article from Careerbuilder
in May 2015 speaks volumes about this topic.
"Researching candidates via social media and other online sources has transformed from an emerging trend to a staple of online recruitment," said Rosemary Haefner, chief human resources officer at CareerBuilder. "In a competitive job market, recruiters are looking for all the information they can find that might help them make decisions. Rather than go off the grid, job seekers should make their professional persona visible online, and ensure any information that could dissuade prospective employers is made private or removed."
4) Be Crystal Clear About the Goal of Your Interview
Have a solid job description – understand clearly what you are seeking in a qualified candidate. Make sure the candidate comprehends what you are looking for so your line of questioning can be appropriately geared toward the expectations of the role.
Make sure that you or the interviewer takes the time to review the job description and is fully prepared to provide clarity to the candidate about the position you seek to fill. Planning your questions in advance creates an automatic trigger to align them with the role you are filling.
I use the behavioral based interview process which specifically focuses on what the candidate has done in the past that demonstrates key skills, experiences and abilities that we are seeking at Element Three. It forces the candidate to share real experiences and more specifically the role they played in those experiences to achieve results. There are no hypothetical "what you do" questions and no answers to that effect, either.
You cannot "wing" this type of interview as a candidate or as an interviewer – you must be prepared and you must practice the technique in order to be effective. It also requires you to prepare your questions ahead of time.
If you have multiple interviews scheduled for the candidate there is extra prep that is important on your end. Planning who will focus on which questions is critical. Having your interviewers wing it, or all use the same questions, is a waste of time for you and frustrating for the candidate.
Plan ahead, have each interviewer focus on a specific aspect of the position or cultural fit and regroup at the end to wrap up. If you start your interview by asking the candidate to recap what you already have right in front of you on their resume, you have no idea what you are doing. Sorry to be blunt, but it is the truth. I am not the only one who feels strongly about proper prep for interviews; HubSpot agrees with me.
5) Provide a Positive Interview Experience for the Candidate
Confirming the details of the interview is always a nice touch and it also ensures that there is no confusion around when, where and how the interview will be conducted. Not only is it important to make the candidate feel welcome by ensuring they are comfortable with the process, it gives you peace of mind that there will be no issues or delays. Specific directions are always helpful as well as expectations around dress code.
This may seem obvious, but we are quite casual and to have a candidate go through the hassle of finding, cleaning and fitting into that suit in the back of the closet - only to show up and feel foolish because 90% of us are wearing jeans is a little mean and unnecessary. I always tell people to come as they are.
Helping your candidate find your location easily, including where to park, may seem like a puzzle they should figure out on their own, but I see it as a common courtesy to take that stress off them. Let me save you some time: if you feel like you need to give them a "skills test" on how to find your location as part of the interview, you are already interviewing the wrong candidate.
Explain your interview process and technique. For example, review the agenda for the interview, i.e. 5 minutes for introductions, 40 minutes for the interview, 15 minutes for questions the candidate may have and then 5 minutes for wrap up. I also make sure I explain the type of interviews that I conduct to make it more comfortable for the candidate because they will better understand why I ask the questions the way that I do.
Choose the right environment to conduct a comfortable interview. Allow privacy in a professional meeting room, away from interruptions and offer the applicant water or coffee. Do not bring your computer or cell phone and place it in front of you so you are easily distracted. That's the rudest thing you can do in any meeting of any kind but particularly in an interview.
6) Prepare to Shut Your Mouth
Mentally prepare yourself to shut up and listen carefully. Short of suggesting duct tape, I cannot emphasize the importance of this enough. It is human nature to want to engage, talk about yourself and share all kinds of irrelevant information with your candidate. Refrain. Succinctly ask your question and then shut up and listen.
Use short follow up questions to prompt the candidate to elaborate on the answer and then shut up again and listen. If your interview is well prepared, this should be the natural progression of the conversation. It is when you are "winging it" that the train goes off the tracks and you find yourself spending most of the interview yammering on and on. Then you wonder why you leave the interview with no clear take on the candidate's true qualifications.

HubSpot has a terrific blog post that outlines five great questions to assess cultural fit. Even if you use only one of these great questions, make sure it is #3, "How do you feel about our company values?" If your values are not spelled out on your website then you really cannot hold them responsible for not knowing what your core values are, so to be fair, take the time to prepare them for that question.
Either way, it is an important part of the interview and a great way to learn about your candidate. Of course, if you don't actually believe in your company values, don't bother – that is a post for another time. This question is not an opportunity for you to wax philosophical about how YOU feel about your values, it is an open forum to let your candidate talk. So, ask questions. Shut up. And, listen closely.
7) Recognize the Elephant(s) in the Room
I understand that candidates are typically coached NOT to talk money at the first interview. But that does not make the topic any less important to them. Here's the way I see it.
Point 1:
Time is money and if you are chasing a candidate that is out of your price range and you avoid the topic and fail to "fail fast," you are wasting your time and their time and hence, money for both of you. What's the point of that when it can be easily avoided?
Point 2:
If you have an open position to fill then you have a budget or at least an IDEA of what you plan to spend to fill this role. I get that there are ranges based on experience but I would certainly hope that you have narrowed the level of experience you need within a reasonable margin. Why not talk about your budget for the role at the first interview (or even before for that matter)? Here is how easy it is. "What are your compensation expectations for this role if you are hired?" Elephant recognized, discussion begins.
8) You Owe it to the Candidate to Follow Up Quickly
If you are unable to move your hiring process at a pace that does not leave your candidates hanging for weeks, then you should not have started the process in the first place. Even if you don't have an answer for your candidate within a few days, have the decency to tell them that. Leaving candidates hanging is a terrible business practice and if you even care the tiniest bit about your employment brand, you will take this advice seriously.

I have worked in both very small and very large companies so I understand the difference. It can be a challenge to have that personal touch when you are managing huge volumes of applicants coming through the pipeline. But that is no excuse.
Technology these days with applicant tracking systems allows you to respond to multiple candidates at once in an informative way. Those of you recruiting at smaller companies, I don't even want to hear your excuses because there are none. Respect your candidates, tell them what is happening.

So that's it. Eight easy prep steps that will exponentially improve the quality and efficiency of your interview process not only for you, but for your candidates. I dare you to try it and fail.
Producing quality videos for your ecommerce site is hard, we know. Equipment is expensive, and specialists who know how to use that equipment cost even more. For that very reason, many ecommerce businesses will settle for photos and graphics just to get the job done.
These six statistics show that video might just be an investment worth making. Sure, you'll have to dig a little deeper into those pockets at first, but the results will return more than you dreamed.
When consumers search for products like yours, 14% of the results could very well be product videos. If they're not your videos, then you've lost a significant portion of the audience, haven't you?
Google also says video campaigns will soon be grouped just like any other ad through AdWords. That means videos will soon be even more likely to show up in Google searches.
Did you know that your products are more likely to sell if you create videos for them? There are quite a few reasons for this, which we'll cover in the next points. The most important thing to note, however, is simply that videos for your products do prompt more purchases. That's really the biggest and most important statistic you need.
Almost 46% Will Showroom If Video Isn't Available
Showrooming has been considered the bane of brick-and-mortar stores' existence, but it can go the other direction, too. If you have buyers on your site who really want to see the products in action, they might drive to the nearest store. If they do that, you're likely to lose that purchase.
Instead of letting your buyers leave your site for any reason, give them videos so they can see your products in action.
71% of Consumers Think Video Explains the Product Better
When consumers feel like they understand the products you sell, they're more likely to take a chance on spending their money. Video clears up a lot of that confusion. Isn't that what your marketing is all about, anyway? Answering questions with quality content?
Those buyers who see the videos and understand what they're buying are less likely to be surprised by the products when they arrive. As you might imagine, those consumers who are less surprised by their purchases also end up happier. And happy customers are less likely to return a product for a refund.
All of this adds up to trust. By providing product videos, you give buyers quality information that doesn't hide behind good angles and lighting. They understand the products they're ordering and are happier with their purchases. With every great transaction, you build more and more trust.
And a consumer who trusts your business is worth the investment you'll make in product video production, isn't it?
Google has added a playful feature to its iOS application that lets you kick off a random trivia search – aka, the "I'm Feeling Curious" search feature – just by hard pressing on its app icon. The feature takes advantage of 3D Touch, which means it only works on Apple iPhone 6s and 6s Plus devices. After tapping on the "I'm Feeling Curious"…
Read More
One of the most frequent questions we get from aspiring and current inbound marketers is, "How do you manage all of that content?"
When we tell them we use an editorial calendar, the next question is often, "Oh, how much does that cost?"
... Nothing. Because, for the most part, we use Google Calendar.
Surprised? There are a lot of great calendar tools out there you can choose from. (In fact, for those of you who are HubSpot customers, there's a marketing calendar built right into HubSpot's software.) But after trying a ton of other solutions, our team found that we really operated the best with just a simple Google Calendar. In fact, this has actually been the longest-running editorial calendar solution our team has ever seen.
Here's how we set it up and why I think it works.
How to Set Up Google Calendar as Your Blog and Content Editorial Calendar
First thing's first: Download the calendar templates. (For free.) By doing this, you'll have three editorial calendar templates on your computer to use at your leisure: one for Google Calendar, one for Excel, and one for Google Sheets. In this blog post, we'll be going over how to set up the Google Calendar template, specifically.
Step 2: Create a new Google Calendar.
Now that you've downloaded the templates, it's time to set up your Google Calendar to accommodate them. First, go to your Google Calendar, and select "Create New Calendar" under the "My Calendars" dropdown arrow on the left-hand side of your screen.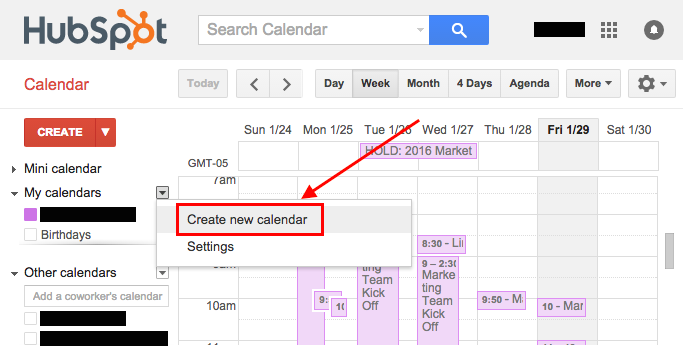 Fill out the fields that appear on the next screen. For now, keep the sharing options blank. This way, people won't receive an out-of-context email about an incomplete calendar. When you're done filling in the details, click "Create Calendar."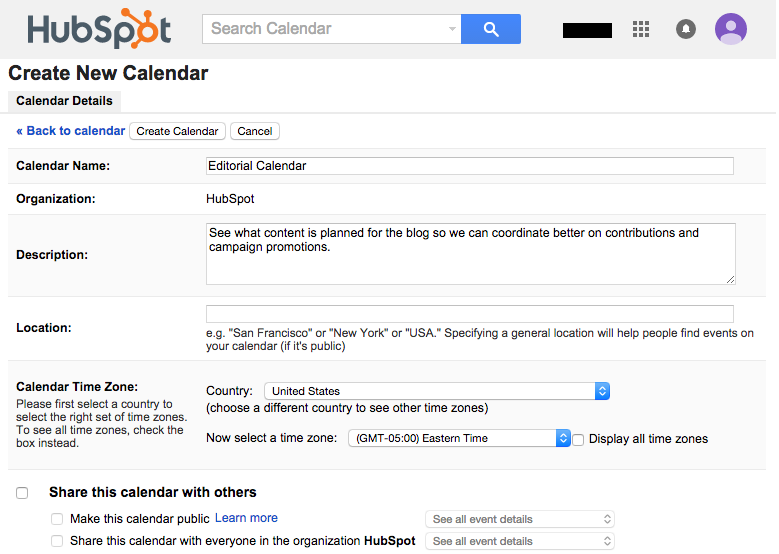 Step 3: Import the CSV file from the download.
Select "Import calendar" under the "Other Calendars" dropdown menu on the left-hand side of your screen.
Click "Choose File," and then locate the CSV file entitled "Blog Editorial Calendar - Google Calendar" that was included in the ZIP file you downloaded with this offer. For the "Calendar" option, be sure to choose the name of the calendar you just created from the dropdown menu. Then, click "Import."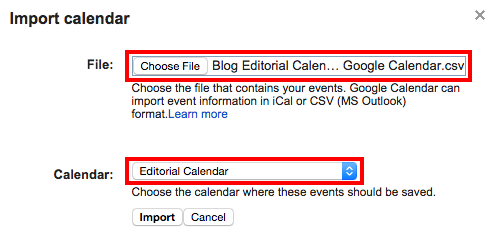 You should see an Import calendar dialog box telling you that seven events were successfully imported. Click "Close."

Now, navigate to January 3, 2016, which is the start of your calendar. Be sure all of your other calendars are temporarily hidden by clicking the colored box to the left of the calendar name. On the week of January 3, 2016, you should just see one "Blog TBD" calendar event on each day from 10 a.m. to 11 a.m.
Step 4: Determine your publishing schedule.
Now that you have your calendar created, it's time to fill it in with stuff. This is when you have to make some decisions about your blog publishing schedule.
While the CSV file you imported accounts for one blog post per day, this doesn't mean you need to publish seven days a week. Maybe you want to publish every Monday, Wednesday, and Friday. Or perhaps you plan on publishing on just Thursdays. Remember, the key to successful blogging is quality over quantity. Don't overcommit to a blogging schedule if the quality of your content will take a hit. (Read this blog post for some great benchmark data on how often companies should blog.)
If you decide to decrease the number of days you want to publish, click on the calendar event of that day and select "Delete."
Even if you wanted to publish multiple times a day, updating this calendar is as easy as adding an event. Select a slot on your calendar to add another "Blog TBD" event and copy the default description from another one of the events you imported.
Next, it's time for some minor adjustments. Currently, the "Blog TBD" events are set for 10 a.m. Feel free to move these events to whatever time your blog publishes during the day. (Curious about what time is best for you to publish a blog post? Read this how-to blog post to learn how to create a Custom Google Analytics Report.)
Step 5: Set up recurring events.
Now that you have your publish dates and times set, you can make these recurring events on your calendar. If you have a regular publishing schedule, like every Monday, Wednesday, and Friday at 10:00 a.m., for instance, then put that in as a recurring "slot" on your calendar. It's okay if you don't have a piece of completed content -- or even a working title -- to put there yet. It's just a reminder that you want to publish something that day.
To add your recurring slot, click on your first "Blog TBD" event and click "Edit event" to be taken to the details of the post. Here, you can set the post up as a recurring post so it automatically appears every Monday, Wednesday, and Friday at 10:00 a.m. (or whatever days and times you want).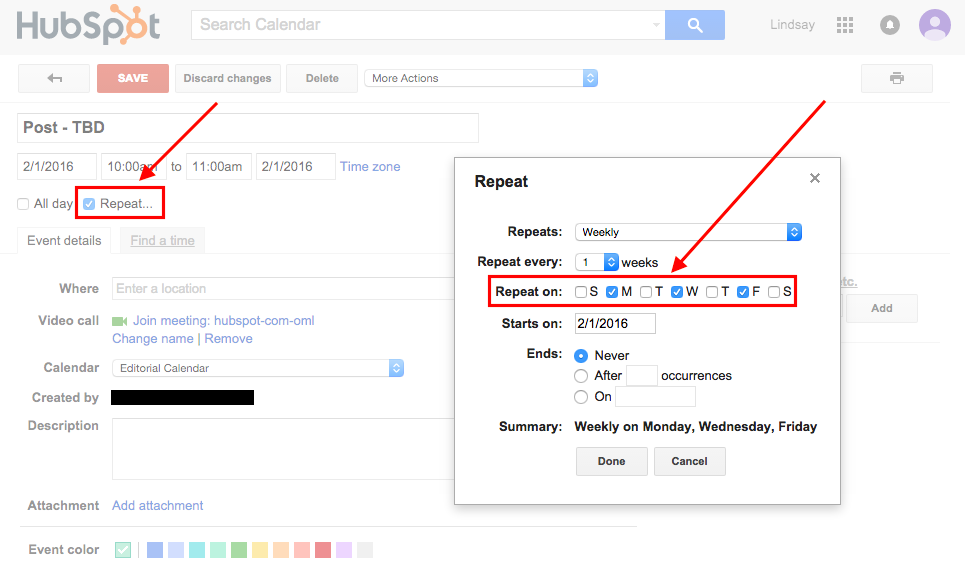 Once you've selected the recurring days, hit "Done" and "Save," and you'll have an editorial calendar framework to work with.
For now, keep the title of the event as "Blog TBD," but feel free to customize the description with any extra details you want to be sure you include for each post. Wait to invite any guest, as we'll use this to assign posts to an author once you begin filling in your topics. With everything complete, click "Save."
If you don't have a recurring schedule like this, you might not be in need of an editorial calendar just yet -- but it is a good way to set goals for yourself. If you know you want to publish a certain number of posts each week, even if you don't hit every single slot, it's a good reminder for yourself and your team that this is something you should all be striving for.
Step 6: Fill your publishing slots.
Now that you know all of the slots you want to fill, you gotta actually ... you know ... fill 'em. (If you don't have topic ideas yet, check out this free topic idea generator. It'll give you some good ideas for content to put in the calendar.)
Let's say one of the posts you want to write is "10 Surprising Facts About Tapirs," and one of the posts you've already written and want to publish later is "Think You're Cut Out to Own a Tapir? Read This First." Cool! Just add 'em both to the calendar by clicking on "Post - TBD" on the correct date, choosing "Edit Event," and then changing the "Post - TBD" text to the actual title of the post.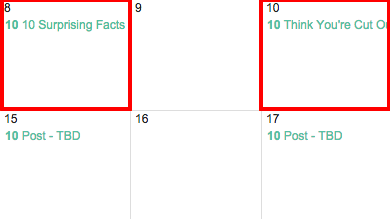 Now let's say you don't actually want to write "10 Surprising Facts About Tapirs," and you want your colleague to write it instead. To assign the post an author, you'll invite them to the event as a guest. To do this, click on the event, hit "Edit Event," then invite that colleague to the post by typing his or her name or email address into the "Add: Guests" box, selecting "Add" when their name pops up, and hitting "Save" on the event once you're done.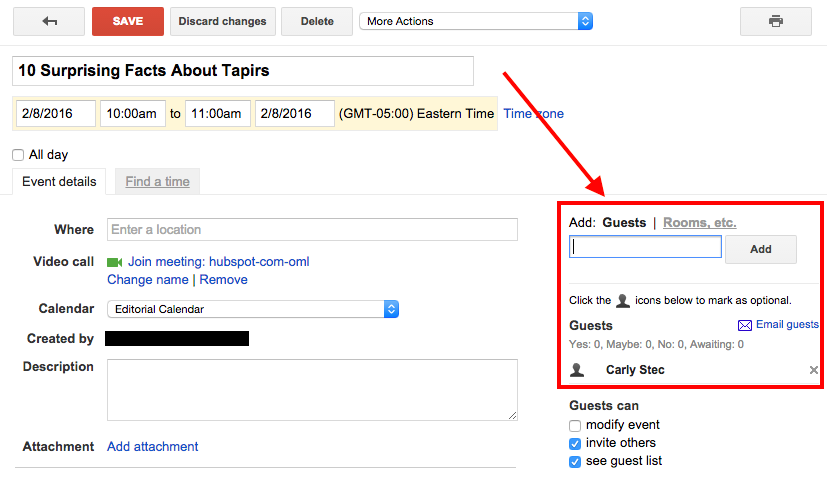 Now, anyone can see who is responsible for writing the post that's going up in that time slot.
You can take it a step further by adding details to the "Description" box of the event. You might include a quick synopsis, the keywords you plan to target the post for, the target audience you're trying to reach, and the offer or CTA you will direct the reader to at the end of the post. Don't forget a due date for the draft.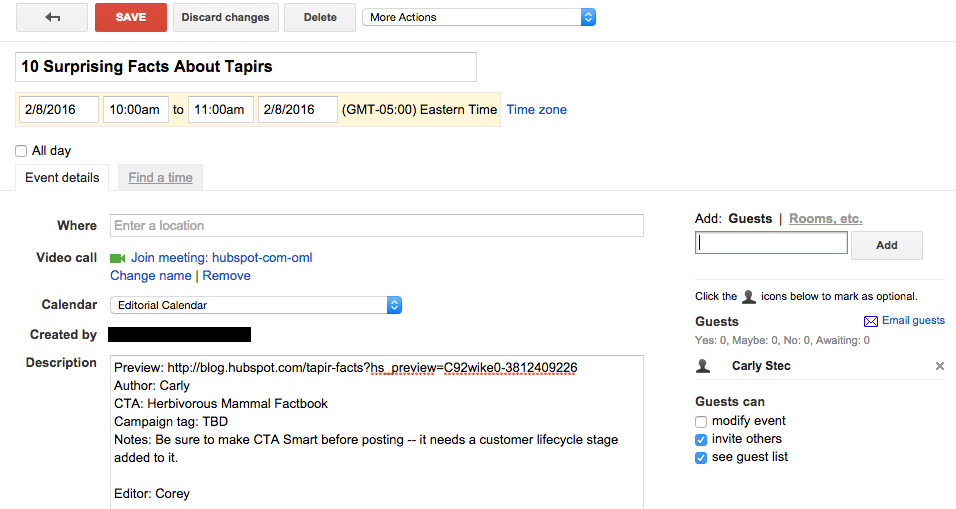 Before Google Calendar will let you save the event, you'll see a dialog box asking if you would like to change just this event or all of the events in the series. Select "Only this event."
Repeat these steps to assign each blog topic today and in the future.
Step 7: Share your editorial calendar with others.
Now that you have your calendar set up, you can start to invite people to see it. I'd recommend you start with your immediate team and regular contributors -- as well as anyone who regularly asks you about publishing content on your company blog.
To share this editorial calendar with people, simply find your editorial calendar under "My Calendars," click "Share this Calendar" when it appears in the dropdown arrow, and you'll be taken to the same screen we saw in step one.
Then, you can add in the names of people with whom you'd like to share the calendar and set the right permission levels for each invitee.
It's wise to keep those with the permission settings to manage changes and sharing to a minimum so there aren't too many cooks in the kitchen -- but I recommend you let everyone see all event details so it's clear exactly what content is going up in each slot.
Under the "Share with specific people" heading, enter the email addresses of those on your content team and decide if they have viewing, editing, or admin privileges. Save your updated settings.
Why Using Google Calendar as an Editorial Calendar Works
I mentioned earlier that we tried a lot of different editorial calendar solutions, and this is the only one that's stuck for more than a couple months. I think one reason for that is because we use Gmail for our corporate email, which means everyone on our team is already in Gmail (and their calendar, specifically) all day. As a result, it isn't hard for people to form a habit of checking the editorial calendar, because it's not difficult for them to find it.
Google Calendar also makes things really easy to move around and schedule because ... well ... it's already a calendar. It has all the functionality you need to schedule stuff out and let the people who need to know about it know. When we were using other solutions for this, we were trying to hack a calendaring function instead of just relying on one that already existed.
Along those lines, adding people to view your calendar is simple, which makes it easy for multiple teams to collaborate, see what's being published, and figure out when they might be able to launch content and campaigns.
Finally, this sets a precedent for other teams to coordinate with you in a really simple way. You can have a calendar for upcoming campaigns, offers, social media pushes, product launches -- you name it. And you can all share those calendars with one another for a single-screen view of everything that's going on so you can coordinate more easily.
Are there other solutions of there for maintaining an editorial calendar? Of course. But if you're looking for a minimum viable product, and a free one at that, this ain't too shabby. It's kept our content team sane, agile, and transparent for quite some time -- and I think it could do the same for you.
Editor's Note: This post was originally published in January 2014 and has been updated for freshness, accuracy, and comprehensiveness.
Filed Under: Facebook, search engine optimization, Social Networking
Tagged With: Blog, Blogging, Canonical, Content Marketing, Daily, Facebook, featured-1, search engine optimization, SEO, Social Networking, Weekly
Many nonprofits fall victim to a common marketing trap: they pour efforts into acquisition, while ignoring the leaky bucket on the other side—the fact that existing members are churning out almost as fast as they're entering the funnel. What gives?
There are many factors at play here. For one, digital audiences have short attention spans and have limited mental bandwidth to track the many moving parts of their interests and lives. Secondly, digital audiences have moved to a news feed style culture of passive information delivery. Just take a look at the widespread growth of Twitter, Slack, and other platforms.
Nonprofits need a way to engage and re-engage their members: data consistently shows that among companies, existing customers tend to be the most valuable. Given that they aim to reach the same audiences that companies do, why should nonprofits be any different?
If your membership retention rates are low, you're dealing with an unnecessarily leaky engine. Here's how you can use email marketing to fight this challenge head-on. (And if you need a refresher on email nurturing before you dive into the rest of this blog post, check out HubSpot's Intro to Lead Nurturing Guide).
Here are are 5 tips that nonprofits should keep in mind when developing lead nurturing content:
1) Always Be Delighting
Don't be the friend who only calls when you need help or money. Make sure that you're consistently sending email updates with helpful and relevant information. In addition to talking about our organization, make sure that you share news and updates about the communities that you serve--stories from 'in the field,' news, and updates provide great reading material here. Imagine that your organization is an entertainer and educator. Focus on delivering value with every interaction and communication touchpoint. To accomplish this goal successfully, you'll need to understand your audience personas. That's where Step 2 comes in.
2) Segment Emails by Interest
Your subscribers want messaging that's tailored to the interests and needs—not one size fits all content. In your email nurturing communications, make sure that you tailor your messages to the needs of your list. Tap into the pools of data that you collected about your members when they signed up. Supplement this information with website browsing data: what content are your different segments taking interest to and why? For instance, you may notice that your audiences are spending more time on pages related to membership, donation, or volunteering. Make sure that your marketing materials reflect this browsing intent.
Precision is key when developing email nurturing content.
3) Time Your Campaigns Right
Create campaigns that support key membership goals. Structure your automation around key events in your members' lifecycles, paying close attention to renewal dates and events that your organization might be hosting. Your messages should 'warm up' your audiences a few months out, and always provide reminders about why and how your organization provides value. You'll want to reinforce the great work that you do and why your members should want to stick around and keep being a part of it all. When it comes to lead nurturing, timing is key: make sure that you're delivering the right messages at the right time in your audience's' experiences as members. Even better? You can automate this entire process.
4) Automate Emails with Workflows
Don't just send emails for the sake of sending emails. Every message that you compile should lead to a concrete and tangible 'next step' that you want to take your members to take. Maybe you want to guide your audience to an event that you're hosting, or maybe you're fundraising for a campaign. Make sure that you always have an end goal in mind and that you specify a clear set of action for your segments to take. Pre-designed email workflows can help. Specify exactly what you want to take place after someone downloads a case study, ebook, or brochure that your organization releases. With everything planned, there will be no manual effort on your part.
5) Always Be Testing
Email nurturing and marketing automation campaigns don't exist in a vacuum. You need to make sure that you're refining your messaging continuously and always making sure that your emails make an impact.
That being said, you'll want to run continuous A/B tests on your calls to action, subject lines, and offers, as soon as you get your campaigns up and running. Make sure that you double down on your email segments and make sure that you have the right messaging tailored to each individual member. If someone isn't clicking on your 'hard sell' renewal emails for instance, try something a little softer and more engaging.
Focus on Relationships
When it comes to developing an effective lead nurturing program, there is no cookie cutter or blueprint: you need to focus on building strong audience relationships. Test out different types of content, gather feedback, and make sure that your email communications are spot-on. In today's digital age, audience are overwhelmed with more information than they can process. Make every interaction count.
For more on using email to grow membership, check out our previous post 5 Emails Your Association Should Send to Increase Memberships.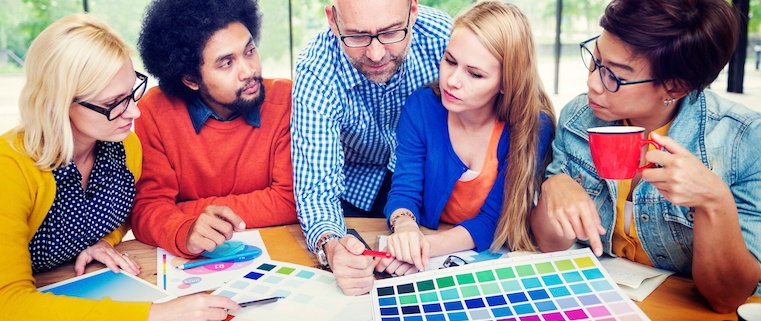 We all know visual marketing works. Visual content is 40X more likely to get shared on social media than other types of content. Not to mention, infographics are Liked or shared on social media 3X more than any other type of content.
The problem is, it can be hard to actually create these visuals -- especially when you're a small marketing team with too much to do and no designer on hand.
So when it comes to creating a cohesive set of campaign visuals -- from Twitter graphics to blog images -- what's a marketer to do?
Well, to make your life easier, we worked with Canva to put together the ultimate set of 195+ design templates for every visual marketing need.
There are 10 visual design types and multiple themes that are carried through each design type, making it easy for you to quickly spin up a visual marketing campaign across multiple channels.
This set of 195+ designs includes:
Infographics templates
Facebook, Twitter, and Pinterest templates
Facebook, LinkedIn, and Twitter cover photo templates

Email header templates

Blog featured image templates
Ready to take your visual marketing to the next level this year? Get your 195+ design templates from HubSpot & Canva today.
Filed Under: Facebook, search engine optimization, Social Networking
Tagged With: Blogging, Daily, design, Facebook, Inbound Marketing, Promo, search engine optimization, SEO, Social Networking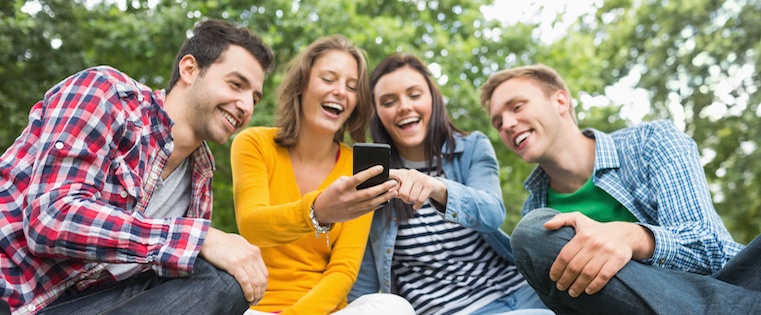 Snapchat has grown up a lot since its release back in 2011. While most people know it as the app that lets you send "private," disappearing photos to your friends, the app has a whole lot more depth to it now. It offers branded and interactive filtering options, live news stories, and even a feature that lets you send cash to a friend.
Its popularity and growth all the way up until now has been impressive. In November 2015, Harvard researchers found that 36% of 18–29-year-old Americans have a Snapchat account, up from 28% in 2014. Today, the app has over 100 million daily active users.
While some marketers have already jumped on the opportunity to build an audience using the popular app, many are wondering where to start. How do people really use Snapchat? And how can marketers like us use that information to create compelling social content?
To help us get a glimpse into the data and behavior of Snapchat's user base, Newscred and Column Five created the infographic below. Check it out to learn interesting statistics on Snapchat's users, their attitudes toward branded content, and more.

Image Credit: Delmondo
Filed Under: Facebook, search engine optimization, Social Networking
Tagged With: Blogging, Daily, Facebook, IGSS, pop culture, search engine optimization, SEO, social media, Social Networking
As the votes continue trickling in from Monday night's Iowa caucus, Twitter came out on top in terms of social media predictions
No prediction is perfect but Twitter got it closer than most by projecting Ted Cruz at the top of the GOP heap, ahead of Donald Trump and Marco Rubio. While the percentages were off, the results still managed to pick the winner even as Trump was ahead in many polls
As for the Democratic side, Twitter fell short on Bernie Sanders' gains as, at 1:30 a.m. CST, that race still remains too close to call even though Twitter predicted an easy win for Clinton. Read more...
More about
Facebook
,
Twitter
,
Social Media
,
Google Trends
, and
Us World
Filed Under: Facebook, search engine optimization, Social Networking
Tagged With: Blogging, Facebook, Google-Trends, search engine optimization, SEO, social media, Social Networking, Twitter, US & World